🕐 Esta reportagem foi publicada há mais de seis meses
Aos Fatos launches real-time monitoring system against misinformation
10 de agosto de 2020, 13h00
Aos Fatos launches, this Monday, August 10th, the public facade of an unprecedented real-time monitoring system built to fight disinformation. Radar Aos Fatos is a monitor that detects potentially misleading content that is circulating on social platforms by topics. Through its automated system, publications are swept by an algorithm that maps language patterns and classifies them according to their informative quality. Thus, it is possible not only to observe the evolution of campaigns based on false information, but also to know how they have been amplified.
The project, a pioneer in Brazil, won the Google Innovation Challenge in 2019 and received support from the Google News Initiative. In its 0.1 beta version, Radar Aos Fatos centralizes in just one platform, a database of potentially viral low-quality content about Covid-19 on Twitter and YouTube. It also maps and gathers language patterns with misinformative potential on websites and Google Trends. By doing this, it analyzes an average of 90 thousand publications weekly applying a methodology that combines linguistics, social and data science.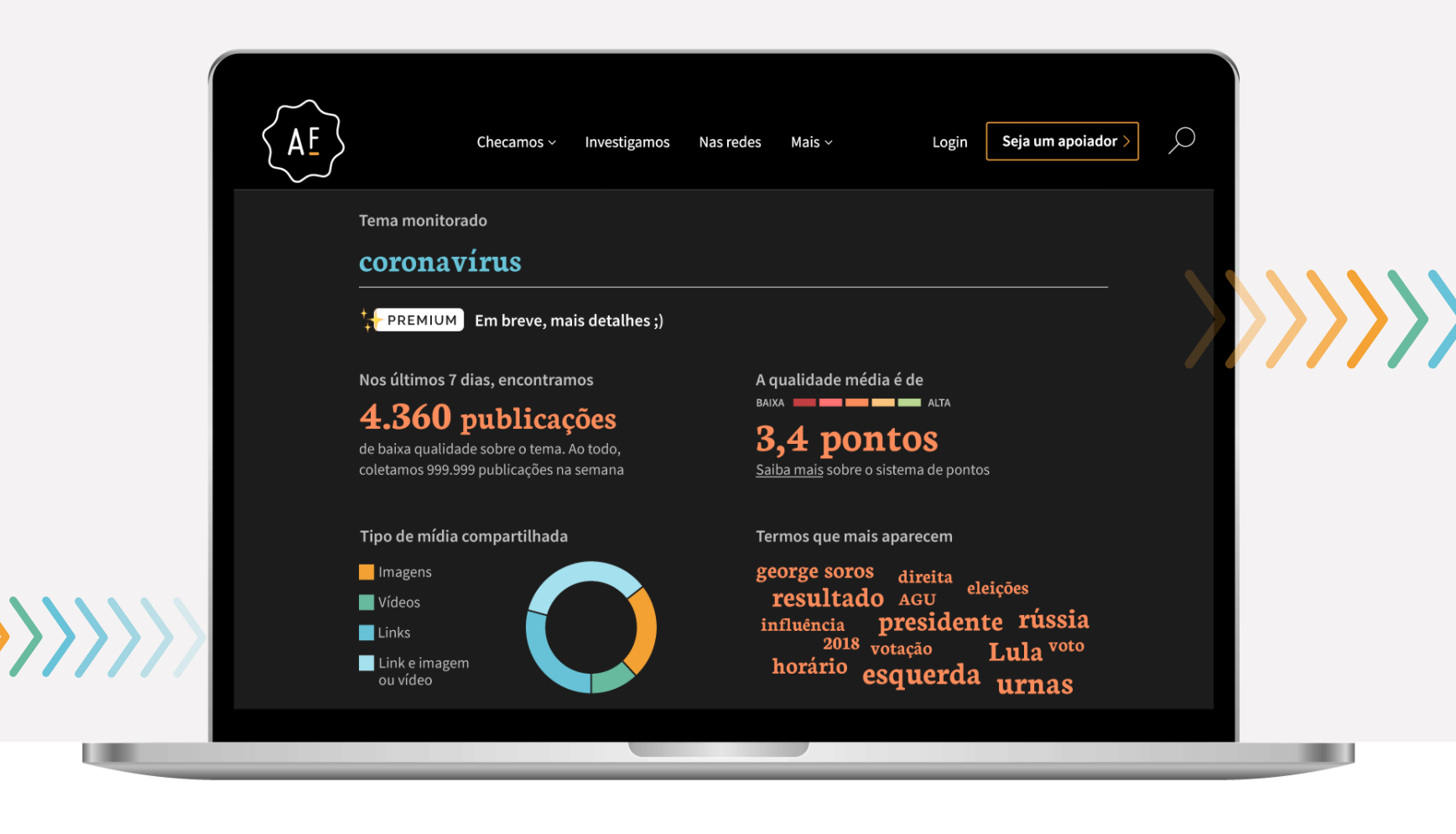 This methodology will allow Aos Fatos to produce weekly reports about disinformation strategies regularly used in hot topics on the agenda, which will be openly available until September. From September on, Radar Aos Fatos will launch its premium mode, through which our customers will also have exclusive access to structured databases, curated by Radar's team, that will enable them to produce intelligence regarding the most common topics on disinformation campaigns. In the coming weeks, Aos Fatos will also launch specific monitoring for the elections and other topics related to the national agenda.
In short, with Radar, Aos Fatos also inaugurates a new business vertical aimed at institutions that deal with risk scenarios and demand an understanding of who positively or negatively molds opinions on social networks. For this reason, Radar Aos Fatos was designed to attend to three specific audiences:
Companies that deal with risk scenarios on a daily basis and need to understand the global components of public opinion formation. By having access to Radar Aos Fatos' reports, it will be easier to make predictions about how society behaves regarding the national agenda. Radar provides subsidies to understand how relevant and prevalent are misinformative narratives on a specific topic.

Universities, think tanks and research centers that demand hands-on access to data and short-term analysis of disinformation campaigns to develop policy papers and research on social platforms.

Newsrooms that cover the phenomenon of disinformation and need to understand what themes are guiding low quality, misleading content networks—and, above all, how these flows interact with each other.
"In order to make well-informed decisions and define good strategies, leaders in their respective areas need to be continually aware of how disinformation campaigns influence the public debate, especially if these debates are happening simultaneously across multiple platforms. Radar Aos Fatos arises to fill this gap. It locates, qualifies and gives context about the main disinformative vectors among the most relevant social platforms while generating strategic intelligence", says Tai Nalon, executive director of Aos Fatos.
"Radar Aos Fatos aims to create an unique dataset, that is capable of telling how a misleading narrative is built in different social networks and to know who amplifies this narrative. It's a difficult and ambitious project, but extremely necessary", says Carol Cavaleiro, head of innovation at Aos Fatos and product leader.
Click here to know more (in Portuguese).