🕐 Esta reportagem foi publicada há mais de seis meses
Against plataforms' rules, riots in Brasilia were plotted on social media since January 3
9 de janeiro de 2023, 03h10
Messages calling for the invasion of Brasília's Praça dos Três Poderes this Sunday (8) have been shared on social media since January 3, an Aos Fatos investigation has found. Despite several platforms' guidelines against violent content and voter fraud allegations, these posts are still accessible on major social networks and messaging apps.
In a database of over 13,900 posts on social media and messaging apps colected in the past seven days, Radar Aos Fatos found dozens of posts calling Bolsonaro supporters to ensure "freedom and democracy", "defend the country from the communist threat", and "take power". During the terrorist act, the presidential Palácio do Planalto, the National Congress and the Supreme Court buildings were invaded and depredated.
Radar Aos Fatos found a series of WhatsApp messages shared since Tuesday (3) calling "truck drivers, farmers, gun owners", among other Bolsonaro supporters, to "unearth all the rats that have seized power";
More posts were found between Tuesday and Saturday (7), adding up to tens of thousands of shares and hundreds of thousands of views on platforms such as TikTok, Kwai, Facebook, Instagram and Telegram;
For instance, a video published on Kwai on January 3 called users to a "mass action" to stop the country and storm Congress. Until this Sunday evening, the video had more than 10,000 views;
Most posts went viral from January 4 on. One of them made a "constitutional call for military personnel, anti-communists and anti-dictatorships" for a "military revolution", which was shared by dozens of users on several platforms and has reached over 100,000 views this Sunday.
Viral publications on TikTok and Kwai spread to other platforms, such as Facebook and Instagram, where thousands of users also viewed them. Published on Friday (6), the most popular post reached 820,000 views and 48 thousand shares this Sunday (8) afternoon.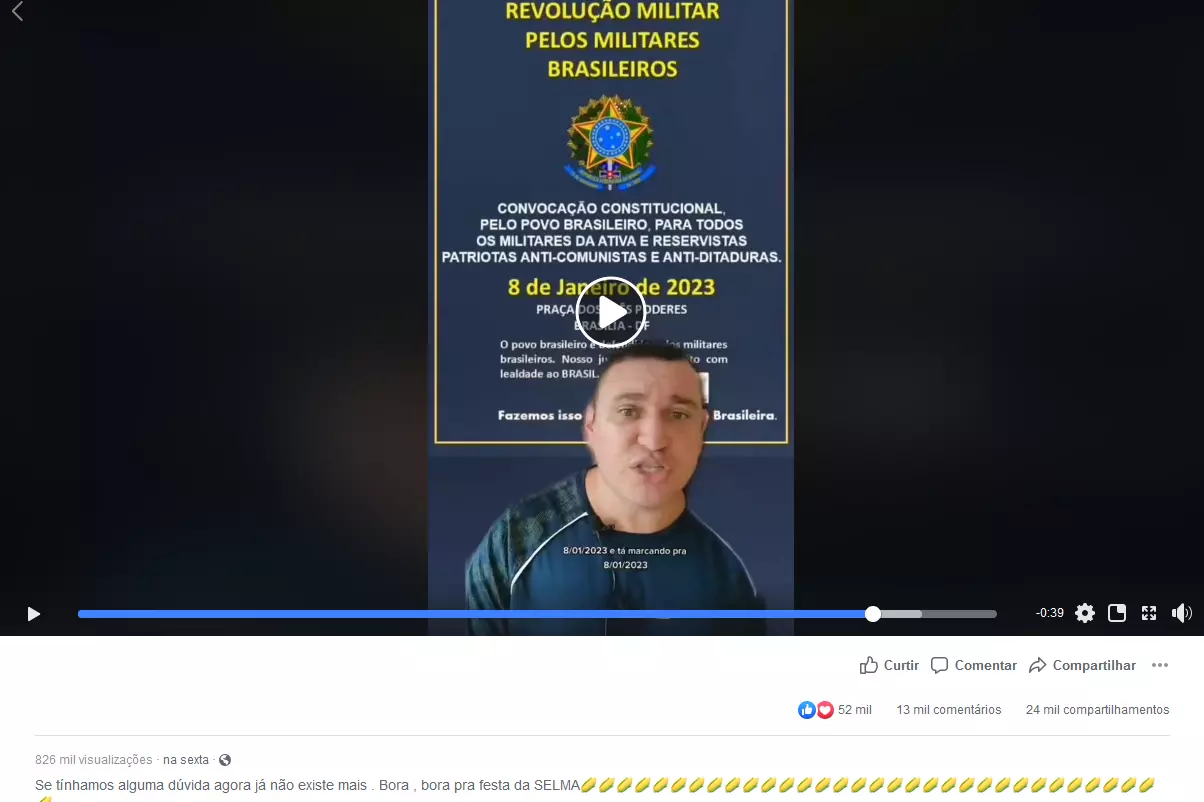 Aos Fatos also found calls for the invasions in Brasília on messaging apps since January 4. Groups on Telegram such as CLUBE DAS ARMAS, NAÇÃO BRASILEIRA and FAMÍLIA BRASIL, with some 20,000 members each, invited Bolsonaro's supporters to storm the Brazilian capital. Calls for the "people to take power" were also broadly shared over the weekend.
Violations
Although content with calls to assault Brasília remained accessible, most platforms have policies against this sort of extremist content.
Acording to YouTube's community guidelines, "content intended to praise, promote, or aid violent extremist or criminal organizations is not allowed". The platform has said that false claims with allegations of fraud, errors, or glitches in the 2014, 2018, and 2022 Brazilian presidential elections also violate the rules;
Facebook states that "any content containing statements of intent, calls for action, conditional or aspirational statements, or advocating for violence due to voting, voter registration or the administration or outcome of an election" cannot be posted;
TikTok says they do not allow people to use the platform "to threaten or incite violence, or to promote violent extremist organizations, individuals, or acts", and that they remove content with that purpose as a rule.
Kwai also has rules to combat content that "engages in terrorist activity or praises, glorifies, supports, or promotes terrorist organizations, which include any non-state actor that engages in, advocates, or lends substantial support to acts of violence that could cause death, injury, or serious harm to civilians with the intent to coerce, intimidate, or influence a civilian population, government, or international organization to achieve a political, religious, or ideological aim".
Telegram prohibits messages promoting violence and "activities recognized as illegal by most countries – such as terrorism and child abuse".
Contacted by Aos Fatos, Kwai stated this Sunday that it got the aforementioned videos removed. "All actions and initiatives developed by the platform to contain the advance and propagation of content that have the potential to harm the democratic process remain in progress," they said.
Meta said it had designated Sunday's act as a policy-breaking event and would remove content that supports or praises the event.
Other platforms hadn't commented as of Sunday night.
Leia aqui a versão em português desta reportagem